Software Development Support
DLT GATEWAY
Following on the news of the completion of the Blockchain Gateway, CertiPath is pleased to offer support for organizations who wish to take this capability and employ it at scale. The base product code can be found at this GitHub respository.
The Distributed Ledger Gateway (DLT GW) can be thought of as Blockchain Multitasking. Organizations who need to participate in multiple blockchains within the same ledger technology or even blockchains across different ledger technologies simultaneously need to piece together the transactional data to create a single operational picture. Data is increasingly being sourced from distributed ledgers and there has not been a good way to aggregate and normalize it. The DLT GW does just that.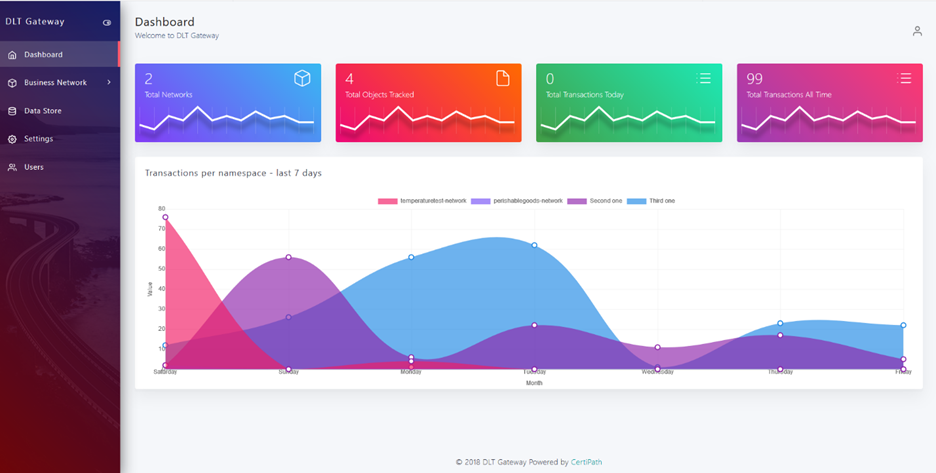 The DLT GW provides an API level integration to each supported ledger technology type to act as a listener.
Extensible Architecture (new blockchain network technology based networks can be added in future)
Customizable domain specific data viewer (end user friendly)
Customizable data access control giving business data owners fine grain control over what data is available to a given group of end users
PROFESSIONAL SERVICES
CertiPath has a unique set of skillsets in helping define, architect and write software solutions. We have helped organizations in addressing issues with Digital Certificates, Public Key Infrastructure, Encryption, Identity Authentication, Physical/Logical Access Control and interrelated applications. Our team of subject matter experts are often called upon to help address unique and challenging issues not provided commercially or readily available.
Our team of experts are prepared to help write software solutions to meet your specific needs. Whether on your site or in our development environments, we will write, test and deliver software solutions. We have a team that understand the various programming languages and have support resources to supplement areas they require a unique talent or for urgent deliveries requiring a surge for meeting deadlines.
CONTACT US
We have worked with U.S. Federal Agencies, commercial banks and industrial companies to help solve their operational issues. Should you have a unique and challenging issue, we would love to hear from.
Toll Free: 1.855.758.0075
Phone: 1.703.793.7870
Email: info@certipath.com