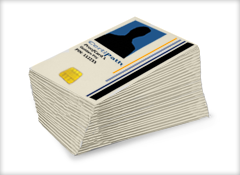 ICAM PROOFCARDS™ / TESTING
ICAM ProofCards test for:
GOOD
Ability to correctly interoperate with and interrogate well formed, Golden PIV and PIV-I credentials
(this creates a known good baseline from which faults can be systematically injected to measure performance against negative test cases)
BAD
Manipulated data on the credential
Invalid dates
Copied data objects on a credential
Revoked credentials
Mismatched keying material from skimmed credentials
ICAM ProofCards are a strategic component of your testing strategy. They provide proof positive your solution is PIV and PIV-I conformant. Many people have testing responsibilities:
OEM system developers (e.g., PACS) need to demonstrate their system as conformant prior to sale
System owners that need to ensure fielded systems properly leverage PIV/PIV-I
Independent auditors with responsibility to assure proper performance of security solutions
All these roles need tools that ensure conformance. Confirmation in development, deployment, certification and accreditation to the FICAM's PIV in EPACS, FISMA, and OMB M-11-11 are required. ICAM ProofCards are the solution.
What's Included
ICAM ProofCards remove variables and make a difficult problem easy to answer.